QUALITY MANAGEMENT
The in-house quality management team at Dartek are a band of dedicated professionals equipped with the lastest technology and top quality instruments.
QUALITY
FIRST
POLICY
Do not purchase NG;
Do not product NG;
Do not flow out NG.
QUALITY
FIRST
OBJECTIVES
Use the finest raw material, the finest craftsmenship, and produce the finest tools.
THIRD-
PARTY
CERTIFICATION
3C CERTIFICATION
ISO 9001
ISO 45001
Quality Policy & Principle
HOW WE ASSURE
QUALITY
Our quality is assured by 7 independently managed teams working seamlessly together in multi-layer quality assurance structure.
Sypply Chain Management - Purchase Channel Management - Raw Material Testing - Laboratory Testing - Engineering Dept Management - Production Dept Management - Finished Production Dept Management.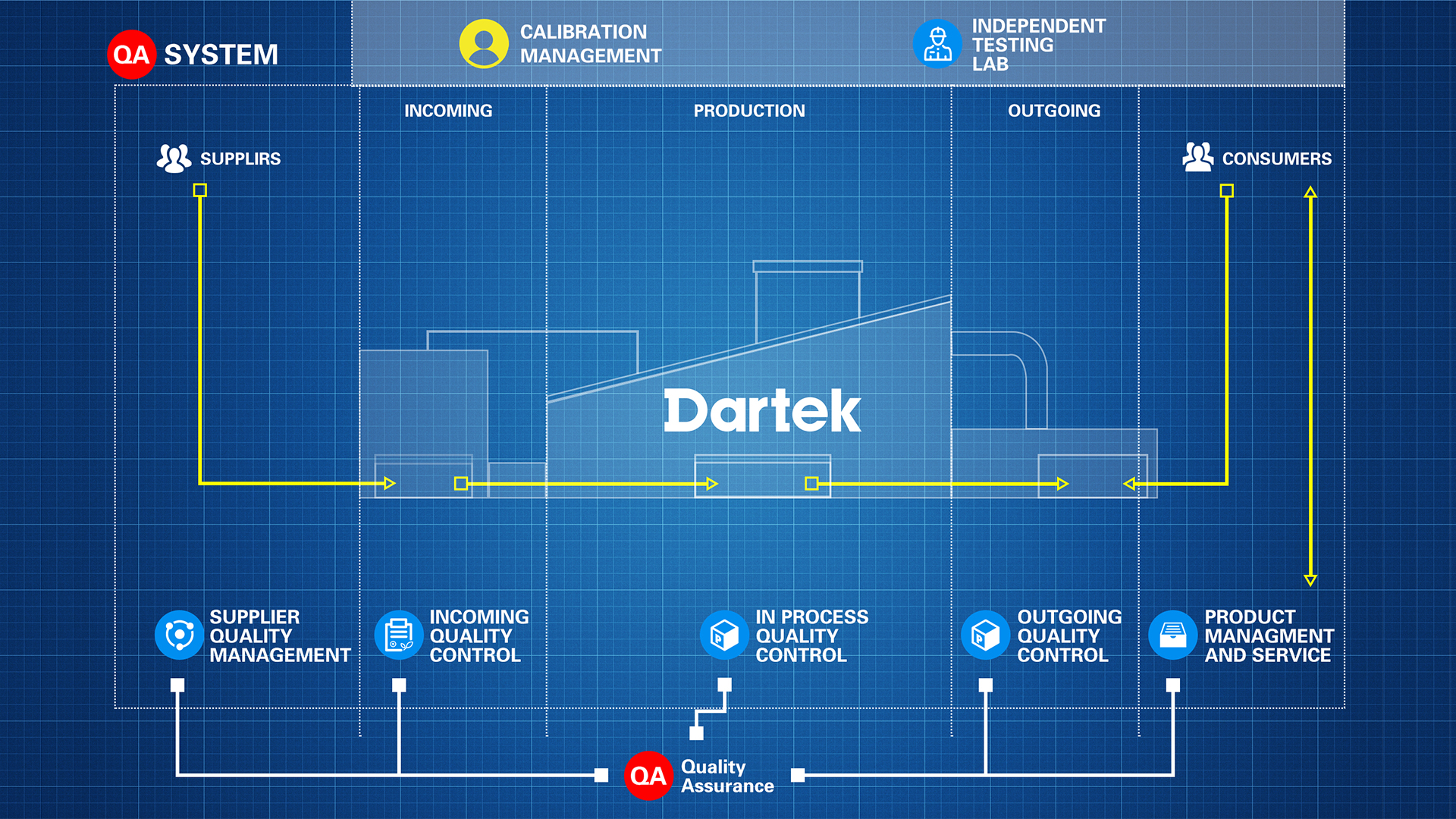 QA
The Quality Assurance (QA) team is responsible for the management and smooth running of the quality assurance system.
Supply Chain Managment
We use strict supplier sreening system, select the world's top suppliers, build up our own supply system.
Purchasing Channel Managment
We investgate our supplier's raw material purchasing channel, make sure they fit with our high material standard.
Raw Material Managment Testing
We do test after purchase the components, using high accuracy machines to test their quality and stable to make sure our finish product's quality and stable.
LAB TESTING
Our Lab will test the tools that R&D dept designed, test its performance, service life, durability, power, etc. to put out a better improvement plan. As well as the NG product testing, find out the problem and then solve it.
Engineering Dept Testing
We will firstly do the new product small range trial produce, after we receive the comments of our customer, if they said no problem, and then we do mass production. If they said it has some problem, we will fix and then do next.
Producing Dept Testing
Our Molding dept and Motor dept have their own testing dept, 100% test every components, not just sampling inspection.
Finished Product Dept Testing
Our Assembly dept has their own testing dept, 100% test every tool, make sure the tool is ok and then send out.